Society has to be a network of lies and deception
Richard Alexander
<![if !supportEmptyParas]>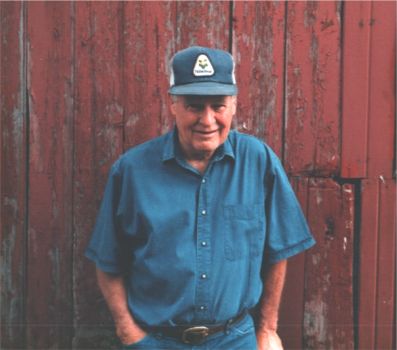 Richard Alexander is an influential theoretician who uncompromisingly applies evolutionary theory to human behavior and morality. Among his publications are Darwinism and Human Affairs (1979) and The Biology of Moral Systems (1987), and he is the co-editor of The Biology of the Naked Mole-Rat (1991). The following interview took place at the University of Michigan, Ann Arbor, July 1996.
Life of an individual organism is seen by Darwinists as a strategy of a group of genes. Why?
When I am lecturing about this, I tell a story about my brother who is a farmer and was selling a bull to a man. The man was very nervous about buying the bull. He said: "If I buy this bull, with my luck he'll be sterile". And my brother said: "Well, he comes from a long line of fertile ancestors". We all come from a long, unbroken line of ancestors, and it's the genes that persist from generation to generation. What we see of living organisms is the product of genes and the environment. The strategy of it, which looks at first to be teleological, is that the development of the organism has evolved in such a way that the product of the development is so designed as to make it through the current environments. This gives a teleological, looking-ahead effect, because you can predict that the organism will be, to some degree at least, ready for each environmental thing that comes along during its lifetime. So it is not strategy in the sense that the genes are designing in the way we are designing using our human minds. This confuses people deeply, more deeply than many realize. There are still very sophisticated philosophers who can't grasp that when you speak of the interests of organisms, such as humans, you are not merely talking about their conscious interests, you are talking about all their interests, whether they are conscious or deliberate or not.
Why are organisms assumed to maximize their reproductive success or inclusive fitness?
J.B.F. Haldane pointed out a long time ago, in the thirties, that you can show mathematically that, other things being equal, whoever makes the largest number of copies of themselves will eventually predominate, and even come to be the only copies among competitors, because the more you reduce the relative numbers of one form, the greater the likelihood that the rare form will go extinct by accident. But whenever you have juveniles or descendants that you can help a lot, then it is not just numbers but how good they are in doing what they need to do. If you are a cod-fish, and all you are doing is laying eggs, and you don't have any other effect on them, the best thing you can do is to create the largest number of eggs. But the more you tend them, and the farther in the future you tend them, the more you should expect the organism to reduce the number it produces in favour of investing in each one. That's still maximizing the likelihood of persistence, it's not maximizing numbers in the simple sense of that first organism.
Some species live in groups, while many, more or less permanently, live solitarily. What are the disadvantages of living in groups?
There are lots of disadvantages of living in groups, and to understand why sexually reproducing organisms who are competing with one another live in groups you always have to find some definite advantages. It is not advantageous to just cluster, because when you do this, there are many individuals competing for the same food in one place, you may have to eat food that another animal already walked over or picked over, you have to defend your mates or fight for mates, etc. If you think in terms of Darwin's "hostile forces of nature", you just go down through them one by one, you will find that living in a group is potentially harmful to almost everyone.
Yet several species do live in groups.
I think there are only a few major classes of advantages of group-living. Cape hunting dogs can bring down large prey like zebras which is virtually impossible for a single hunting-dog. So if food comes in big chunks that are hard to overcome, than group-living can be advantageous on that basis. Sometimes it is advantageous to be in a group just as cover, if you can manage to get somebody else's body between yours and the predator. As Hamilton pointed out, in herds the largest and strongest animals tend to be in the safest places. It can be profitable to have vulnerable individuals in the group, because they are the ones likely to be caught rather than yourself. Sometimes these herds become the places to go, because if you are alone, you are an easy target. Another possibility is aggressive defence by groups. Elephants are very good in protecting themselves and their young, and as the young are vulnerable, we would expect aggressive defence to start with protection of the young. If you are talking about a group of organisms where the group is composed of very close relatives, then other features enter in. Then you have individuals committing suicide to save their relatives.
Why do humans live in large groups? There is not a predator big enough to force us to live in very large groups.
How did human group-living began? I think that most people accept the hypothesis that early human groupliving evolved as group-hunting or group-foraging, but why did human groups kept on growing, even when we were able to subdue our predators, and bigger groups would not do any good? My hypothesis, though Darwin and others had the same ideas, is that eventually other human groups became a very important driving force in causing human groups to get bigger and stronger. We know that today it is definitely other human groups that we see as our most important adversaries, and we design our social life to a large extent around the existence of those other groups. We have a hard time in escaping the tendency to divide the world into 'us' and all those other guys.
In many group-living animals, either the males, or the females, or both are genetically closely related to one another, while this is not so in large human societies. Therefore you would expect intense conflicts of interest. Why don't large human groups split as a result of such conflicts?
We have these things that philosophers call 'moral systems'. It is instructive to realize that these systems tend to just go to the boundaries of the group, they tend not to include the members of other groups. Across the decades moral philosophers and other people have gradually come to the idea that moral systems are systems for keeping competing individuals together, by prescribing not to infringe beyond a certain point on the rights of others. I think that morality might have begun as the honouring by males of the pairbonds between other males and females. That would involve something very dear to everyone, namely the integrity of the family, and it would also involve that thing which is distinctly human, namely that we are able to get along with multiple males in the group. For example in Yanomamö indians, any group that drops below seven healthy males, is said to be certain to disappear, by being taken over by another group. There are minimum-sizes, and these minimum sizes are related to the sizes and strengths of the other groups around. So moral rules and systems are systems of controlling the tendencies of individuals to behave selfishly. And look, when we get into conflict with another group, that's when the rules rise up in their importance. We expect people in time of war not to do things that take advantage of the circumstances, but rather to behave in the interests of the entire group. The risk is much larger if you don't follow the rules and get caught at it when everybody is expecting everybody to be cooperative.
You wrote that nearly all communicative signals, human or otherwise, should be expected to involve significant deceit. Why would you expect this?
I think this is so extreme, that I believe most organisms that communicate are prepared to deliver large amounts of true information, for only one purpose, and that is to stick in one piece of deceit. Because that little piece of deceit may be so important. The reason is that sexually reproducing organisms have different sets of genes, so they are in competition with one another reproductively. And it is not easy to imagine that they would evolve to transmit accurate information to one another. Someone said, if you have a bit of true information, the last thing in the world you should do is give it to your competitor. Even parents and offspring are competitive, because a parent has the interest of its entire brood of offspring, and each offspring has a lesser interest in its siblings than it does in itself. And so therefore, the parent and the offspring as Trivers pointed out a long time ago, will differ in their view as to how much the parent should do for each offspring. So even between parents and offspring you expect deceit. If there is a lot of deceit, as in human communication, the only way you can counter the deceit, is by being very good at detecting it, and then of course you have to be very good at delivering it. Put those two things together as processes that go on for thousands of generations, and you wind up with a very complicated system of communication, complicated because of the deceit. What you really have to study is honest communication; that becomes the difficult thing to explain, which is sort of counter to our own views of ourselves, which makes it even more difficult. It is very interesting to look at those cases where you don't expect deceit. In honeybee-communication, I don't think there is anything that one worker could communicate to another worker, where that worker would gain by deceiving the other worker. Because they both reproduce via the same third party, the queen. One of the reasons why honeybee communication was able to become so elaborate is because of this honesty. I once wrote that society has to be a network of lies and deception, and my gosh, everyone thought that was a horrible statement. And it is a horrible statement if you take it as a moral suggestion. But I was giving it as an analysis; we have to suppose, at the outset at least, that there is an enormous amount of deception. I always say to my students: Think of what people do early in the morning. They look in the mirror, shave or use make-up, put deodorant under their arms, use clothes that make their shape look better, and go into their office with a big smile and say "Good morning!", while they may not feel like that at all. Right from the time you get up in the morning, you set out to deceive everybody. It is almost a humorous thought.
We presumably have evolved to be selfish in a certain sense, but you write that it is not in our interest to show our selfishness. Why?
Everyone wishes to have around him people who regard his interests as important as theirs. So it is in our interests to advertise our abilities and tendencies to help other people with their interests, and not to our advantage to continually advertise our selfish tendencies. This is so complex that it is almost impossible to think about. If you say to somebody: "You are evolved to reproduce, and you are not evolved to do anything else", you will get immediate bristling, and people will say: "That is not true, I am considerate of others, I am kind", and they will go through a whole litany of things which may be true in the way that they state them, but they have to always be analyzed in terms of selfishness and altruism. We are evolved, I believe, to deceive ourselves quite deeply on this issue of when we are being selfish and when we are being selfless. And it is in our interest to do that. You know, people can be fooled, people can be led by us to commit altruistic acts in our benefit; and if they can be, then it is in our interest to do so, at least up to a point. And if they can be, it is in their interest to give the indication that they are moral people who are benevolence givers. Who doesn't gain a little in reputation by saying: "I just gave blood, or I gave a million dollar to charity"? It is very beneficial to us to have those things being known about us.
Why do we have a thing like consciousness, why are we aware of ourselves?
Suppose it is true that other humans are our main competitors, -not just humans living in other groups, but also those who live in our own group, because increased group-size means intensified competition for resources within the own group. How others see us is crucial to social success. I speculate that self-awareness is a way of seeing ourselves as others see us, so that we can cause them to see us as we would like them to see us. In other words, self-awareness enables us to manipulate the impression we make on others in a way that serves our own interests best.
And why do we have a conscience?
I suggest that conscience is the still small voice that tells us how far we can go without incurring intolerable risks on ourselves. It tells us not to avoid cheating, but how we can cheat socially without getting caught.
You wrote that "The more a theory of ourselves explains, the more difficult it will be to gain its widespread acceptance"
I did say that, and I still believe it is true. Why? Because of the things we have been talking about; these are not all happy things. Some of us academicians are just dying to think about the worst possible things that we can dream of, but most people don't wish, for example, to seriously think about themselves as self-deceivers. If we evolved to deceive ourselves about our motivations, then somehow that should be to our benefit. So that means it is not to our benefit to be fully aware of everything we are doing in a selfish sense. Even though it seems to us that our consciousness is everything in our intellects, consciousness may only be a small portion of our actual make-up. There are organisms out there which are living their lives perfectly well in very complicated ways, and we have no particular reason to impute anything we would call consciousness. If most of our motivation is unconscious, there must be a reason. If we consciously had to pay attention to breathing or our heart beating, we probably would not do it right.
home<![endif]>